After graduating at senior high school specializing in Art she attends the Illustration School at Sforzesco Castle in Milan.
During her career she collaborated with several publishers and advertising agencies.
Stefania then decides to leave the world of advertisement to become a full-time painter, paying a special attention to animals portraits.
Her paintings are used in limited  editions art printings worldwide.
For most of her painting her favourite techniques are acrylic colours on canvas or thin cardboards.
She also performs portraits of animals on commission.

Dopo aver conseguito il diploma di Liceo Artistico frequenta la Scuola di Illustrazione al Castello Sforzesco di Milano.
Collabora inizialmente con diverse agenzie pubblicitarie e con case editrici, quindi lascia il mondo della pubblicità per dedicarsi a tempo pieno alla pittura, con un'attenzione particolare ai ritratti di animali.
Dai suoi dipinti vengono realizzate stampe d'arte distribuite in tiratura limitata in tutto il mondo.
Le tecniche prevalentemente utilizzate sono i colori acrilici su tela o cartoncino .
Pittrice naturalista, esegue ritratti di animali anche su richiesta.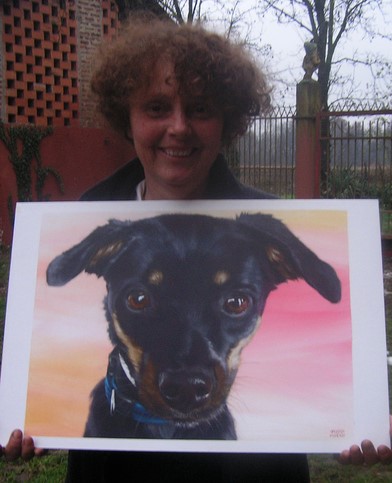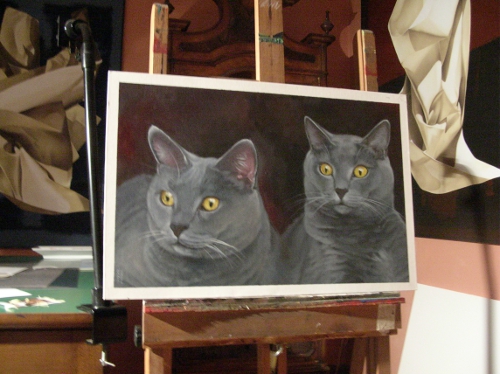 She starts from pictures. Just send her one or more picture of your beloved ones, and she will paint a stunning portrait from it.

Invia a Stefania una o più foto dei soggetti che ami, e dipingerà un bellissimo ritratto su commissione per te.

Original photo on the left, finished portrait on the right. Magic! So true to life that's almost impossible to distinguish among photography and painting.
Foto originale a sinistra, ritratto finito a destra. Magia! Così realistico che è quasi impossbile distinguere la fotografia dal dipinto.
For any info